John Dramani Mahama is a Ghanaian politician who served as President of Ghana from the 24th of July 2012 to 7th of January 2017. Mahama hails from Bole in the Northern Region. He was born in Damongo in the Damango-Daboya constituency of Northern region.
Mahama had his primary education at the Accra Newtown Experimental School and completed it at Achimota School before completing secondary school at Ghana Secondary School (Tamale, Northern region).
He proceeded to the University of Ghana, Legon, receiving a bachelor's degree in history in 1981 and a postgraduate diploma in communication studies in 1986. He also studied at the Institute of Social Sciences in Moscow in the Soviet Union, specializing in social psychology.
After completing his undergraduate education, Mahama taught history at the secondary school level for a few years. Upon his return to Ghana after studying in Moscow, he worked as the Information, Culture and Research Officer at the Embassy of Japan in Accra between 1991 and 1995. From there he moved to the anti-poverty non-governmental organisation (NGO) Plan International's Ghana Country Office, where he worked as International Relations, Sponsorship Communications and Grants Manager between 1995 and 1996.
As Member of Parliament
Mahama was first elected to the Parliament of Ghana in the 1996 elections to represent the Bole Bamboi Constituency for a four-year term. In April 1997, Mahama was appointed Deputy Minister of Communications. He was promoted to the post of Minister of Communications in November 1998, serving in that post until January 2001.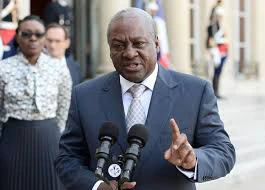 In 2000, Mahama was re-elected for another four-year term as the Member of Parliament for the Bole Bamboi Constituency. He was again re-elected in 2004 for a third term. From 2001 to 2004, Mahama served as the Minority Parliamentary Spokesman for Communications. In 2002, he was appointed the Director of Communications for the NDC. As an MP, he was a member of Standing Orders Committee as well as the Transport, Industry, Energy, Communications, Science and Technology Committee of Parliament.
As Minister and Vice-President
Mahama served as the Deputy Minister of Communications between April 1997 and November 1998. During his tenure as Minister of Communications, Mahama also served as the Chairman of the National Communications Authority. As a minister, he was a founding member of the Ghana AIDS Commission, a member of the implementation committee of the 2000 National Population Census and a deputy chairman of the Publicity Committee for the re-introduction of the Value Added Tax (VAT).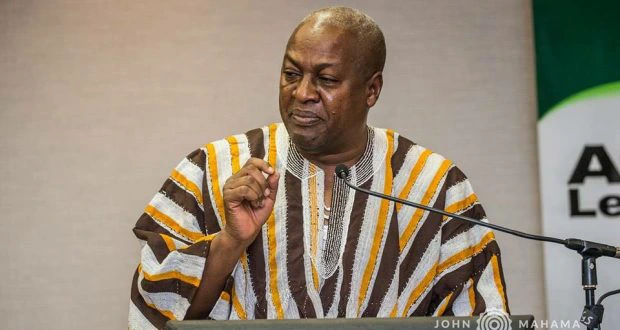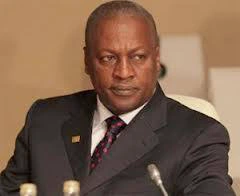 In 2003 Mahama became a member of the Pan-African Parliament, serving as the Chairperson of the West African Caucus until 2011. He was also a member of European and Pan African Parliaments' Ad-hoc Committee on Cooperation. In 2005 he was, additionally, appointed the Minority Spokesman for Foreign Affairs. He is a member of the UNDP Advisory Committee on Conflict Resolution in Ghana.
On 7 January 2009, Mahama became the Vice-President of Ghana. He also served as the Chairman of the National Economic Management Team, the Armed Forces Council of Ghana, the Decentralisation and Implementation Committee and the Police Council of Ghana in this capacity.
As President
In line with Ghana's constitution, Mahama became President of Ghana on 24 July 2012 on the death of his predecessor, John Atta Mills. In July 2012, he became the Ghana's first president to have served at all levels of political office (Ghanaian and Pan-African MP, Deputy Minister, Minister, Vice-President and President).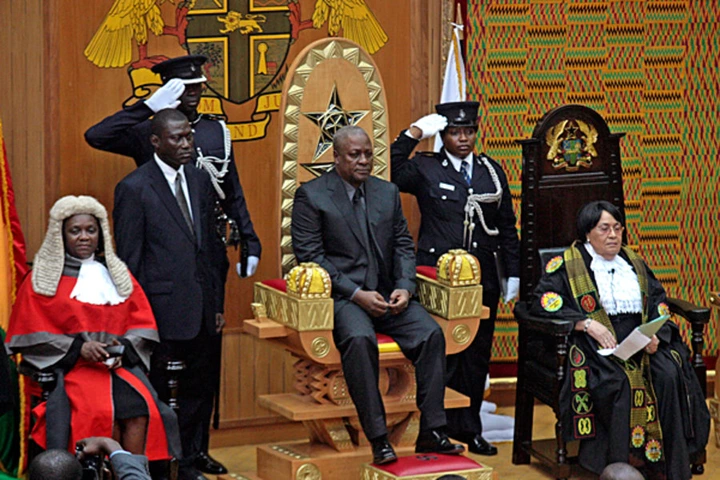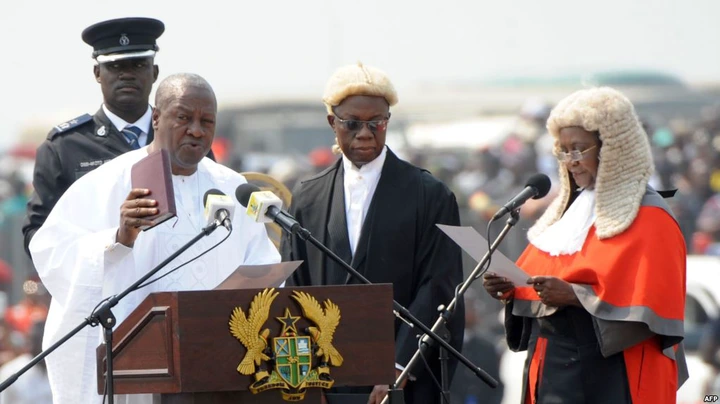 Mahama won the December 2012 general election with 50.70% of the total valid votes cast and a 3% winning margin beating his nearest rival, Nana Akufo-Addo of the main opposition New Patriotic Party, who polled a close 47.74%. On 9 December 2016, Mahama was defeated by the main opposition leader Nana Akufo-Addo, to whom he conceded defeat earlier that day. Mahama polled 44.4% of the valid votes cast compared to Akufo-Addo's 53.5%.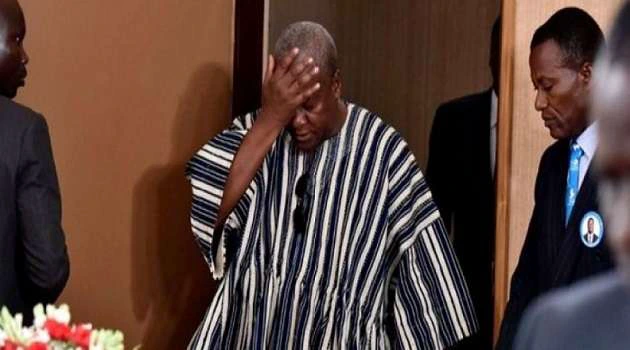 In December 2016, he was part of part of the ECOWAS mediation team to resolve the post-election political impasse in The Gambia between the defeated incumbent, Yahya Jammeh and declared winner, Adam Barrow.