Have you ever been broken hearted? Have you ever experience a sharp pain in your heart when you hear this from your partner,"I can't do this relationship anymore"? If you have,you will understand this article,if not,use this article to prevent yourself from getting broken hearted.
The most thing in this world aside losing your mother is getting rejected by your partner after several sacrifices you did sacrifice for him/her. We see many mentally ill people around and we wonder what could be the reason behind? Broken heart contribute 20% of the total number of mentally ill people in the world.
I don't support black magic but sometimes is worth for using black magic on your partner in situations like what we are about to talk about. In the past days,our mothers use to tell us," if you don't love a guy, don't accept anything from him". But now,we say,"if you don't love a guy,that is when you accept his gifts and help".
Most of the time,we think ladies are the people who suffer broken heart the most. This is a misconception,guys do suffer broken heart a lot but hardly will you see a video or news about a broken heart boyfriend. We witnessed this Nana Ama guy,we saw how he cried, begged for one more chance. This shows the heart is not something to play with when it comes to relationship.
To cut long story short,a guy who's name was revealed as Mike shared his sad story on his girlfriend. In a WhatsApp chat below, Mr Mike has been in a relationship with his girlfriend for a long time. Sacrificing for the girl was one of his top priority which was a good and nice idea. First,he took care of the lady's mum when she had stroke. Paying all the hospital bills and making sure his mother in-law got the more than deserved treatment till she got recovered.
Not just the mother in-law who benefited but also his brother in law too. His brother in law who was jobless then got a lucrative job from the guy. Everything was alright and both seems happy until the guy decided to ask for her hands in marriage. This is where the "wahala" set in.
The girl then confessed to the guy she never loved him. Funny,she never loved him but back then when he was offering help to her mum and brother,she kept quiet and was giving him love attributes.
Life will always be unfair to some people. Giving all of you to your girlfriend and she rejecting you at the end is unbearable. The guy had no option than to force the girl into slavery relationship. See the images below and see how it happened.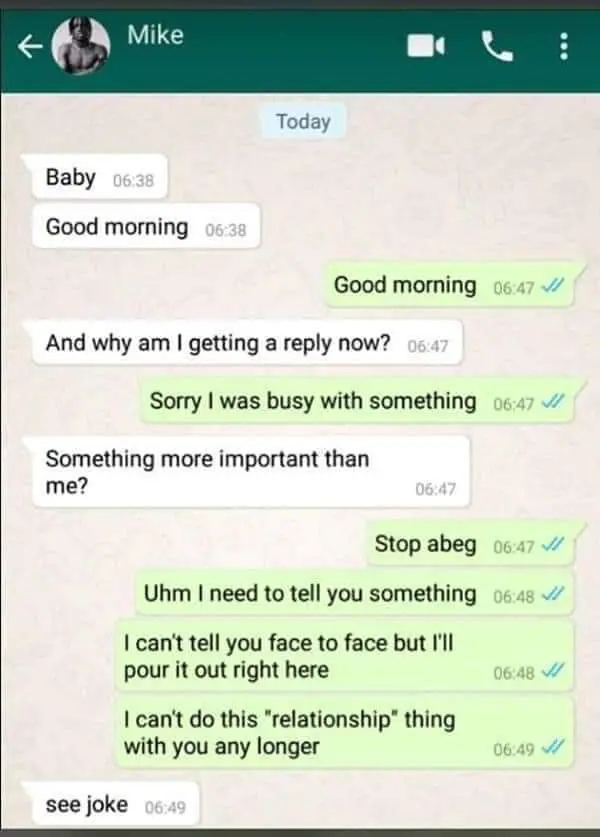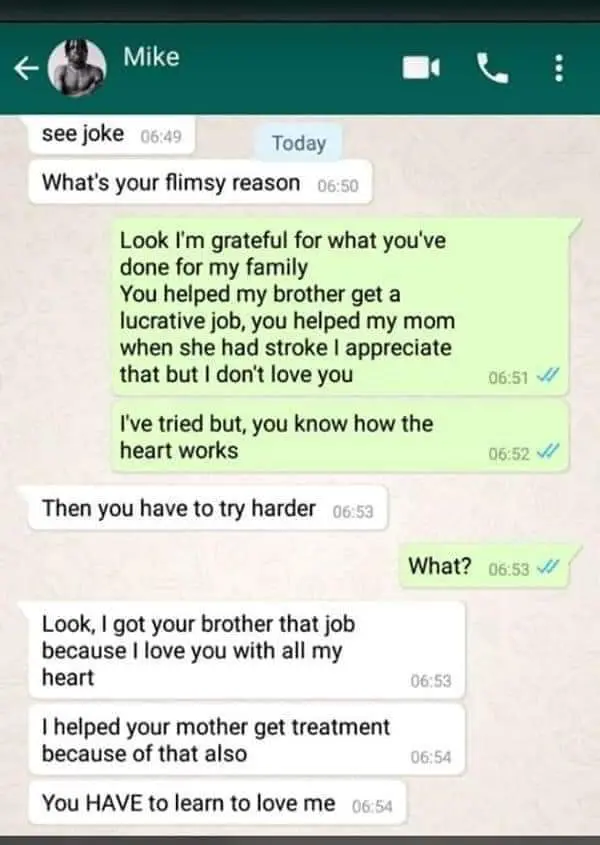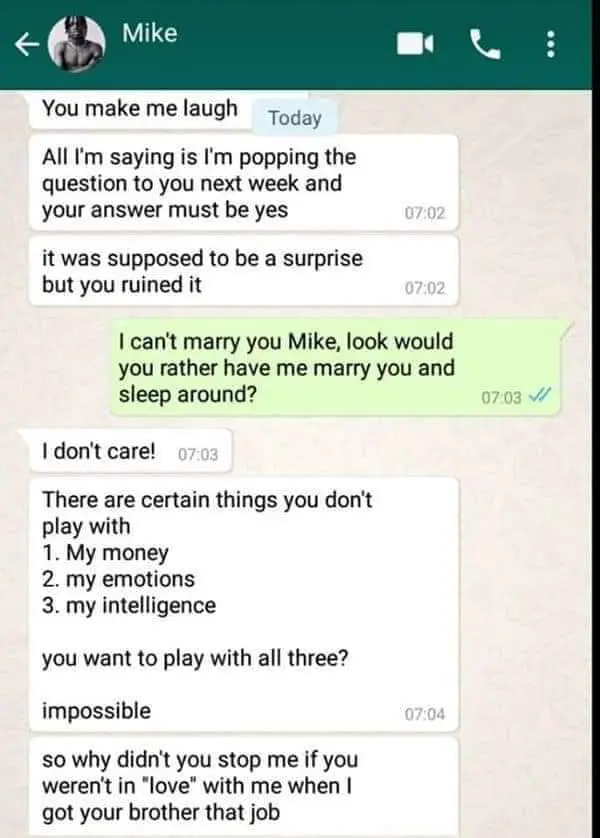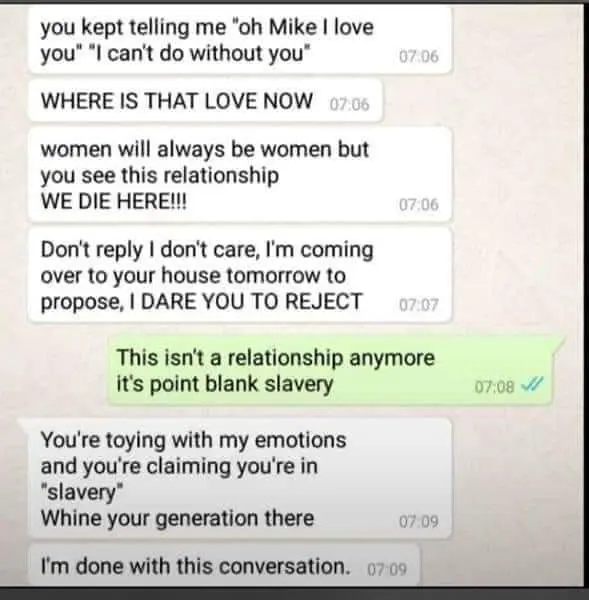 Is the guy right to force her into marrying him or he should just let her go and all his efforts be wasted. These are the answers fans gave.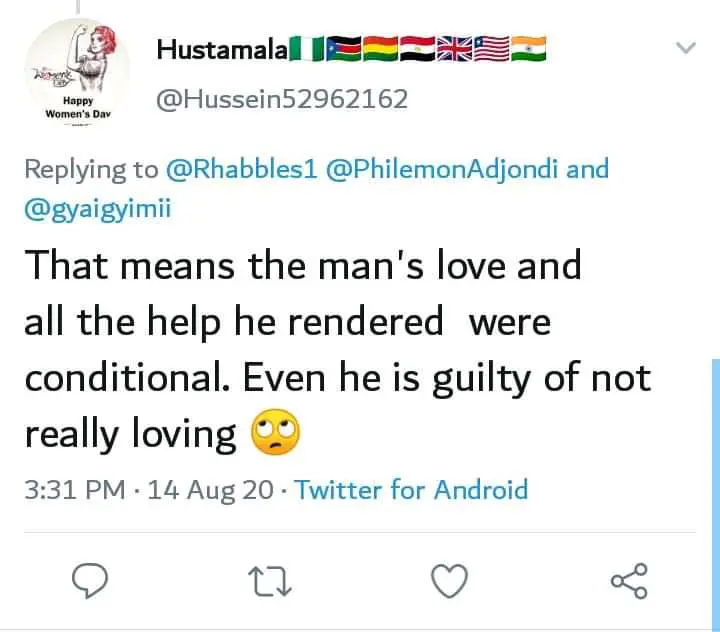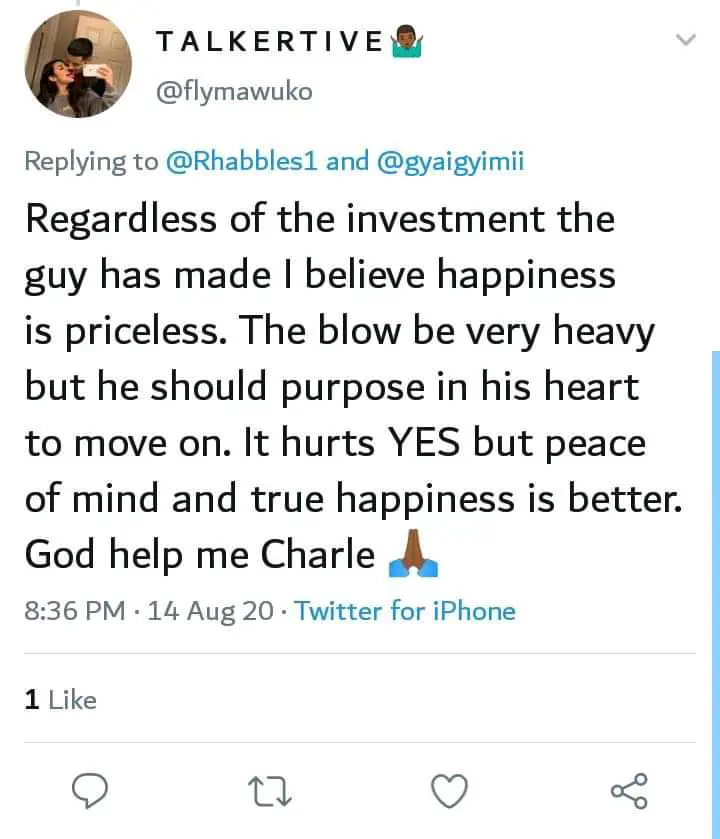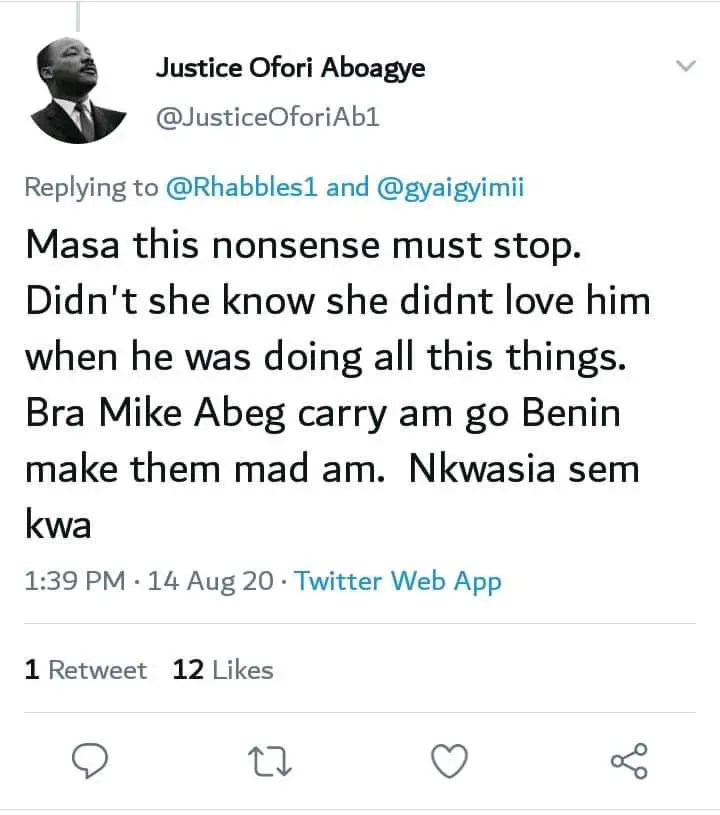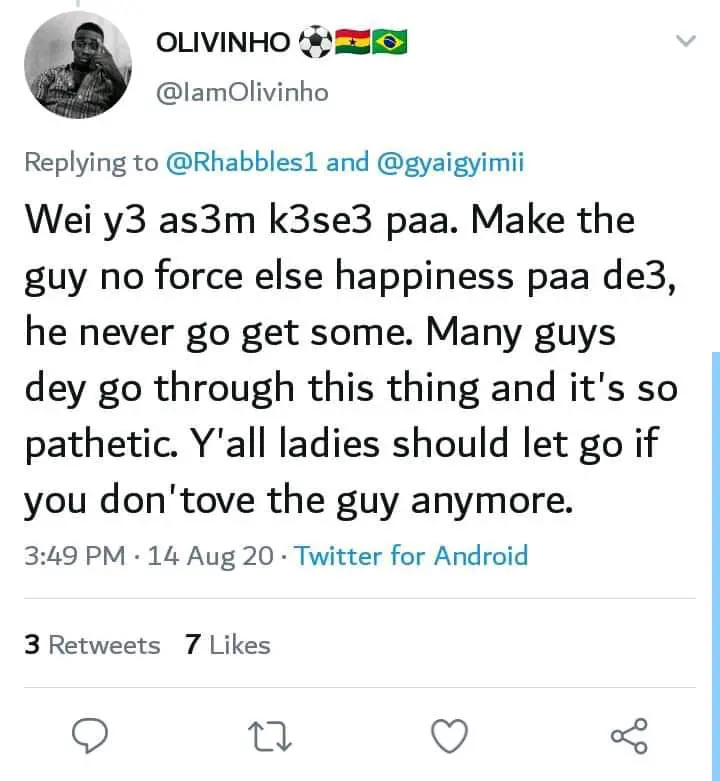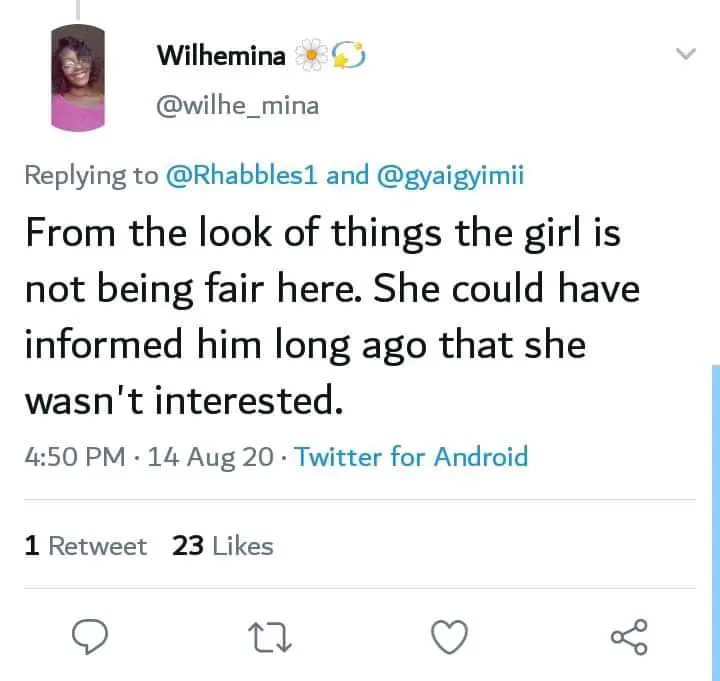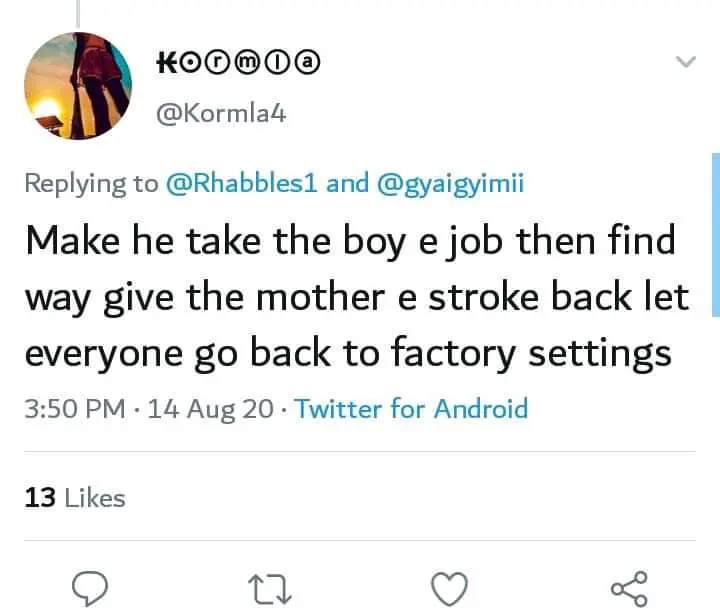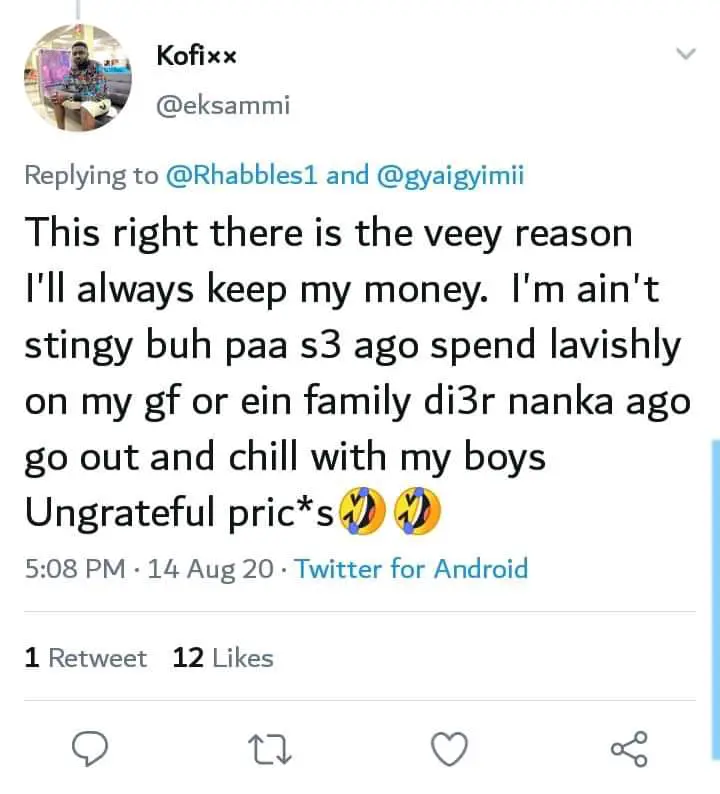 Whats your opinion on this. Any advice for the guy on what to do. Comments below.