Ghana Education Service is the body noted for recruiting teachers all over the country to teach in public basic and secondary schools. Just recently the outfit of GES in a press release called for 2017, 2018 and 2019 graduates from the colleges of Education who were not posted to apply for postings.
A delegation from the secretariat of TTAG comprising of Hon. Adama Fuseini Mohammed coordinator and Hon. Abuu Sadick Mohammed, Administrator visited the GES lat this week to commend GES for the listening ear given to the laments of the Association, Unposted Trained Teachers, Teacher Unions and other cooperative bodies who sought campaign vehemently for GES to post them.
The team upon arrival met with the PRO for Ghana Education Service , Mrs. Cassandra Twum Ampofo where they had some engagements on pertinent issues of newly Trained teachers , Unposted trained teachers among others.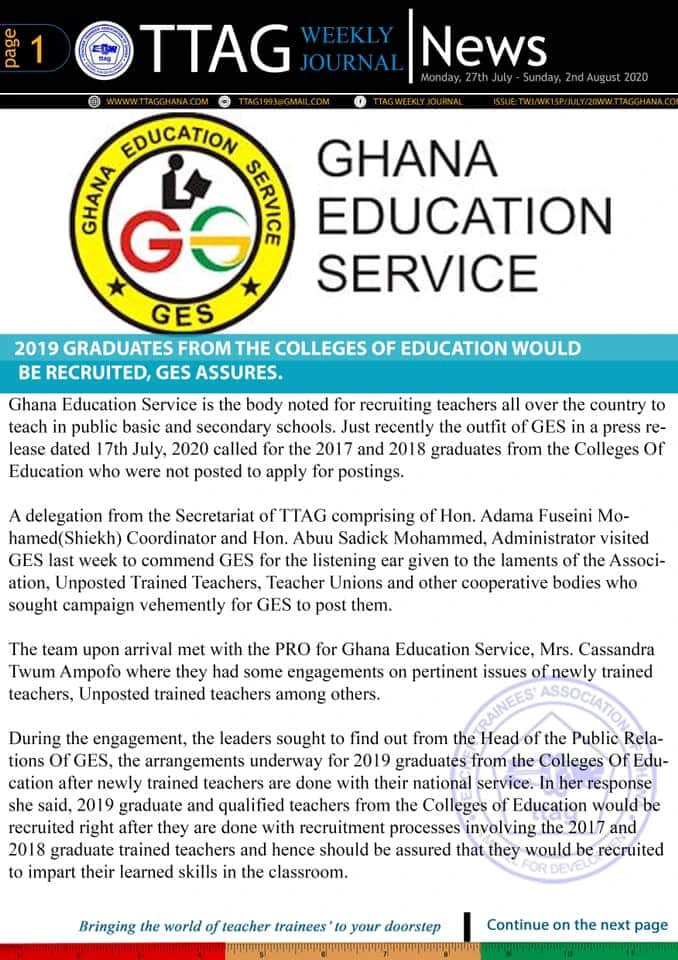 During the engagement, the leaders sought to find out from the Head of the Public Relations of the GES, the arrangements underway for 2019 graduates from colleges of Education after newly trained teachers are done with their national service. In her response she said, 2019 graduate and qualified teachers from the Colleges of Education would be recruited right after they are done with recruitment process involving the 2017 and 2018 graduate trained teachers and hence should be assured that they would be posted to impart their learned skills in the classroom.