Ghana's information minister and member of parliament for Ofoase Ayirebi Constituency Kojo Oppong Nkrumah has criticised the former president John Mahama of being hypocritical.
According to the information minister, former president John Mahama should not attack the Akuffo Addo led government as Mahama himself could not manage the affairs of the country any better.
He claims that in the time of John Mahama's presidency, he was not able to deal with several challenges his government faced.
The sad part is that most of those challenges were created by Mr. Mahama's government itself, yet they couldn't tackle them.
He claims although Mr. Mahama's government never had to deal with any pandemic as we have now, his government still ran to IMF for monetary and fiscal support. He therefore urges the former president to stick to the facts when making certain utterances. Read it below.
Mr. Mahama and the NDC party has in recent times been attacking the Akuffo Addo led government on their way of dealing with the COVID-19 pandemic. A section of Ghanaians have however expressed that the former president would have performed worse, had this pandemic occurred during his time.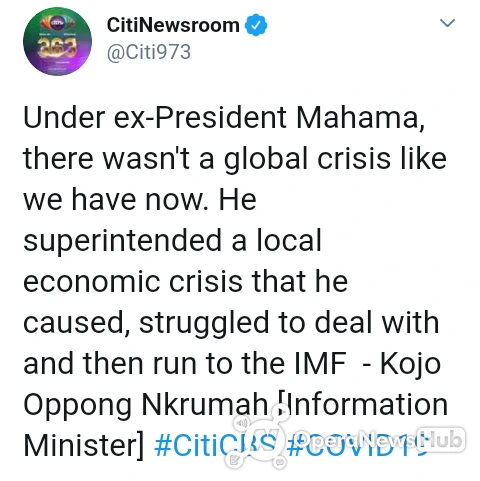 They claim Mr. Mahama could not deal with cholera which has a cure, so they can't fathom how he could have dealt with a global pandemic like COVID-19.