In every aspect you try to analyze the Samsung QLED TV, there is a life satisfying moment you can arrive at.
The TV was created for mans satisfaction and was crafted, to at least, make every person wish to have an experience of it even if owning one would remain a dream.
Its many features include INVISIBILIY; yes, the TV can be FLAT on your wall and be invisible to all.
With its sound adoptive mechanism, trust me; the TV gives your ears all the relevant sounds it needs to satisfy what your eye is seeing.
The top TV technology company seems not to be satisfied with any invention and continues to update and improve its technologies decades ahead of its current existence.
To avoid technicalities and making this article jargonistic; let me simply say, everyone you watch on the Samsung QLED TV will become a friend; and if you forget yourself for a second, you will begin a conversation before realizing you are watching a TV.
This is due to the clarity of the picture and the reality of what you see from any angle. The powerful picture capabilities make it unrealistic to miss any color that pops up on the TV; giving you every detail available for your viewing pleasure including dust particles that will feature in news documentaries or movies.
Artificial Intelligent (AI) is simply your TV acting as wise as the wisest man on earth, King Solomon. The Samsung QLED TV can be said to be the wisest TV on earth. It is able to upgrade all content that show up on it to adopt all the qualities of the TV irrespective of what gadgets was used in the production of the content.
It would seem far but your TV will become obsolete or faulty in your eyes soon due to the changing standards globally. Current TV content is being shot in High Dynamic Rang (HDR). This simple means that, your TV should be able to show a black cat in a dark scene in a movie. I guess by now you have remembered an instance where you thought – This Movie Is Too Dark – and you struggle to see anything being shown on the TV. Its was shot in HDR; your TV is good but your viewing pleasure can be guarantee by the Samsung QLED TV.
Imagine you commanding your TV and it humbly responds.
Imagine your requesting your TV for something and it gladly provides.
Imagine you controlling your TV with your voice; Interesting right?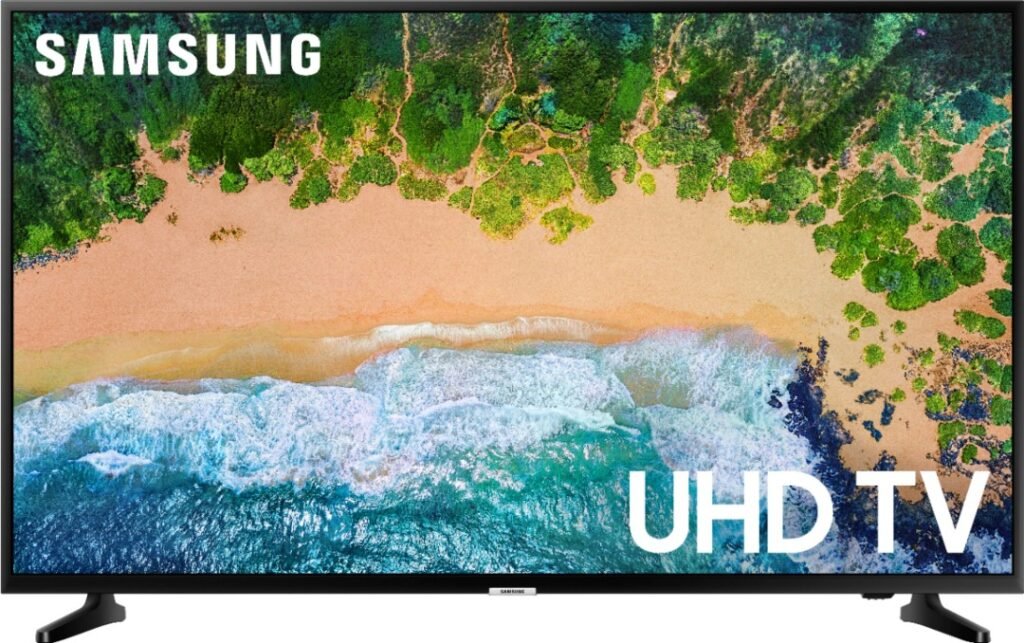 With the Samsung QLED TV you can stop imaging all the above and start experiencing them. This is possible because of the technology Bixby infused in the TV remote. Bixby is an intelligent voice service developed by Samsung to cultivate a relationship between gadgets and humans.
The experience is endless and will stay imaginary until you begin to use Bixby on the TV through the sleek remote control. You just search for any and every information on the internet via Bixby by just asking; Just asking and it will be delivered.
Alexa and Google Assistance has been cooperated into the TV as well.
With the smart-things app, setting up the TV is stress-free. Every information you have on your phone, in the cloud and anywhere will be available after a successful one time set up. Through the Internet of Things (IOT) your TV can give you information on all electronic gadgets in your house and beyond.
Since last year, Samsung has allowed iPhone users to enjoy some of the Samsung only applications; the famous mirroring is now available to iPhone users. So, you can now send images and videos on your iPhone onto a smart Samsung TV. The Samsung QLED TV allows a crisscross mirroring but for iPhone users, they can only send to the TV but cannot receive from the TV.
Apple Airplay and Apple TV are now available on all Samsung smart TVs; more options for you.
The Samsung QLED TV has no power pot. Imagine it for a second; No Power Pot. Yes, for the first time in the history of TV technology; Power, AV, HDMI, USB etc. have been merged into the One Connect Box from Samsung. The Box, with a tinny fiber connection from the TV can be place at any location and give access to all connection as well as powering the TV.
The TV remote is enough to control all connection in the Box. This is to prevent cluttering, beautify the environ and provide some safety.
The full experience of the Samsung QLED TV cannot be described to the fullest until you experience it and tell it to all TV Lovers.